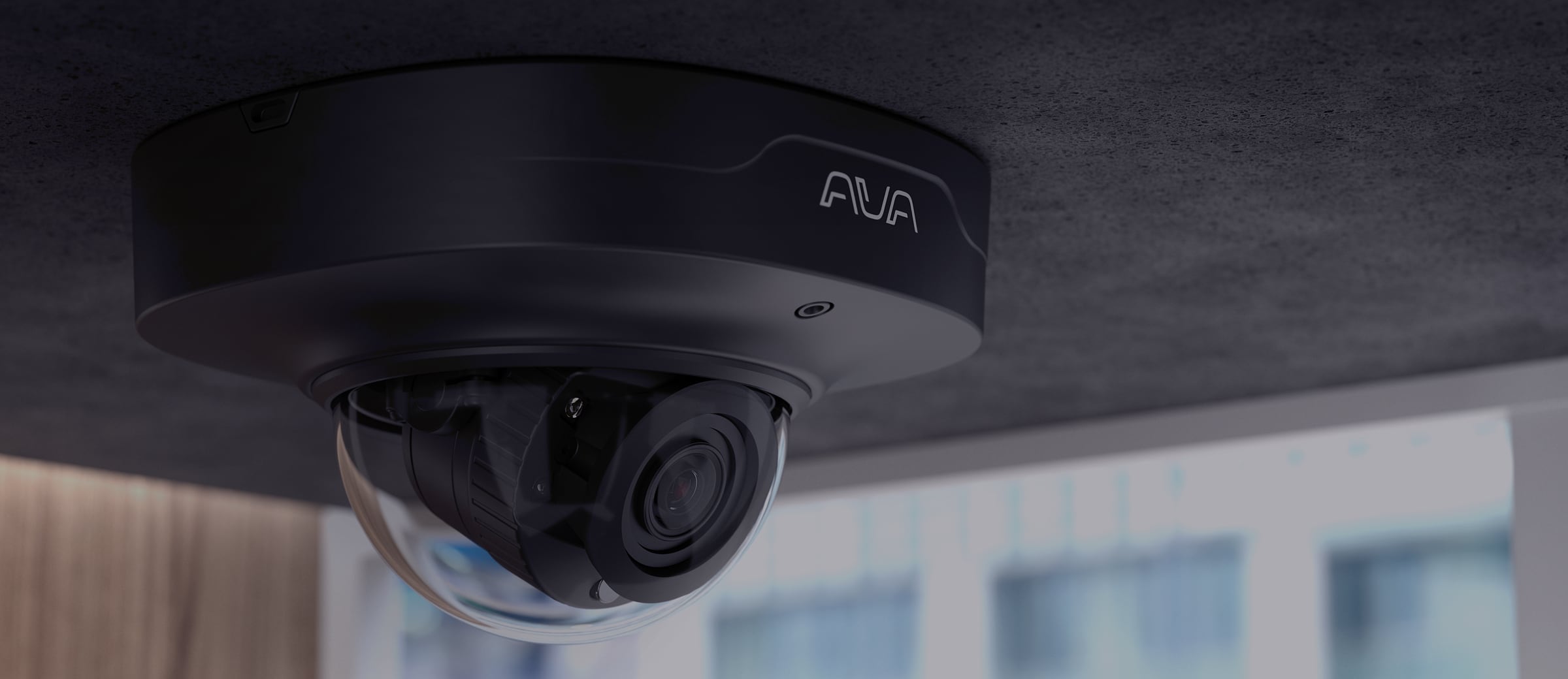 Ava Security introduces Ava Compact Dome
Press release
Meet the "small giant" that is bringing a new level of innovation and power to indoor video surveillance.
London, January 19, 2021—Ava Security, a unified security company, is excited to announce the growth of its camera portfolio with the release of its smallest camera to date, the Ava Compact Dome. This "small giant" is unique not only in size but also in its exceptional quality. The new line of cameras is versatile, sleek, and effortless to install while providing powerful smart edge analytics so operators can be proactive and respond immediately to events requiring attention. Its decreased size allows for more discreet camera placement for all indoor installations.
The Compact Dome is Ava's answer to market demand for smaller cameras. After listening to our customers and partners, we are ready to reveal an amazingly sleek camera that maintains Ava's high quality and powerful analytics. The flexibility of this camera provides a compact, highly effective, and cost-effective security solution to incorporate into the Ava portfolio.
Built-in AI audio and video analytics
Compact Dome's acoustic sensor detects audio classifications, including glass breaking, gunshots, screaming, and other loud noises. It is able to identify objects, events, similarities, and anomalies for faster searches and proactive alerts. Additionally, all footage is accessible remotely, from any location, using any device securely.
Outstanding low light performance
The excellent image quality detail extends from both bright-lighting, low-light, and complete darkness. With a 5MP image resolution, an f/1.3 aperture, and IR for best night vision, this camera was created for continuous surveillance at all hours of the day.
Simple setup with cloud-based management
Ava Compact Dome is easy and fast to install with its snap-on case and Ethernet connection, despite its small size. What's more, users can connect the Compact Dome to walls and ceilings using existing legacy mounts. As with all Ava cameras, the Compact Dome can be added to our Aware Cloud in only a few steps. Simply scan the QR code and be up-and-running in minutes.
The versatility of the Compact Dome blends well with the simplicity of the cloud installation. As with our other cameras, the Compact Dome is managed simply and securely through Ava's Aware cloud solution to give simple compact security solutions.
Compact Dome is secure from the ground up with next-generation secure boot, automatic firmware and software upgrades, as well as encrypted data at rest, in transit, and during management. The Compact Dome will have significant implications for those looking to get the most value out of their security system. Each camera was designed to provide the best-in-class performance for connection in the cloud with continued on-prem capabilities.
Summary
Ava Compact Dome allows organizations to:
Get started in minutes, stay up to date, and always secure in the cloud.
Be proactive and prevent incidents from happening with AI-powered solutions.
Maintain image quality in all indoor lighting scenarios
To learn more about Ava Compact Dome or gather further information, reach out here to our team.
About Ava
As a global company with offices in New York, London, and Oslo, Ava's vision as a unified security provider is to help organizations monitor, understand, and act on threats in real-time across both cyber and physical domains. The company offers best-in-class insider threat detection cybersecurity solutions and intelligent, end-to-end video security solutions to protect people, assets, and data. Security professionals leverage embedded machine learning to help recognize and investigate patterns, accurately see the whole threat picture, and respond quickly. Learn more about our team and what we do.
Contact
Anne Simpson (EMEA)
Marketing Manager, Ava
+47 922 155 88
anne.simpson@ava.uk
Monica Nascimento (Americas)
Marketing Director, Ava
+1 (408) 722 7856
monica.nascimento@ava.uk