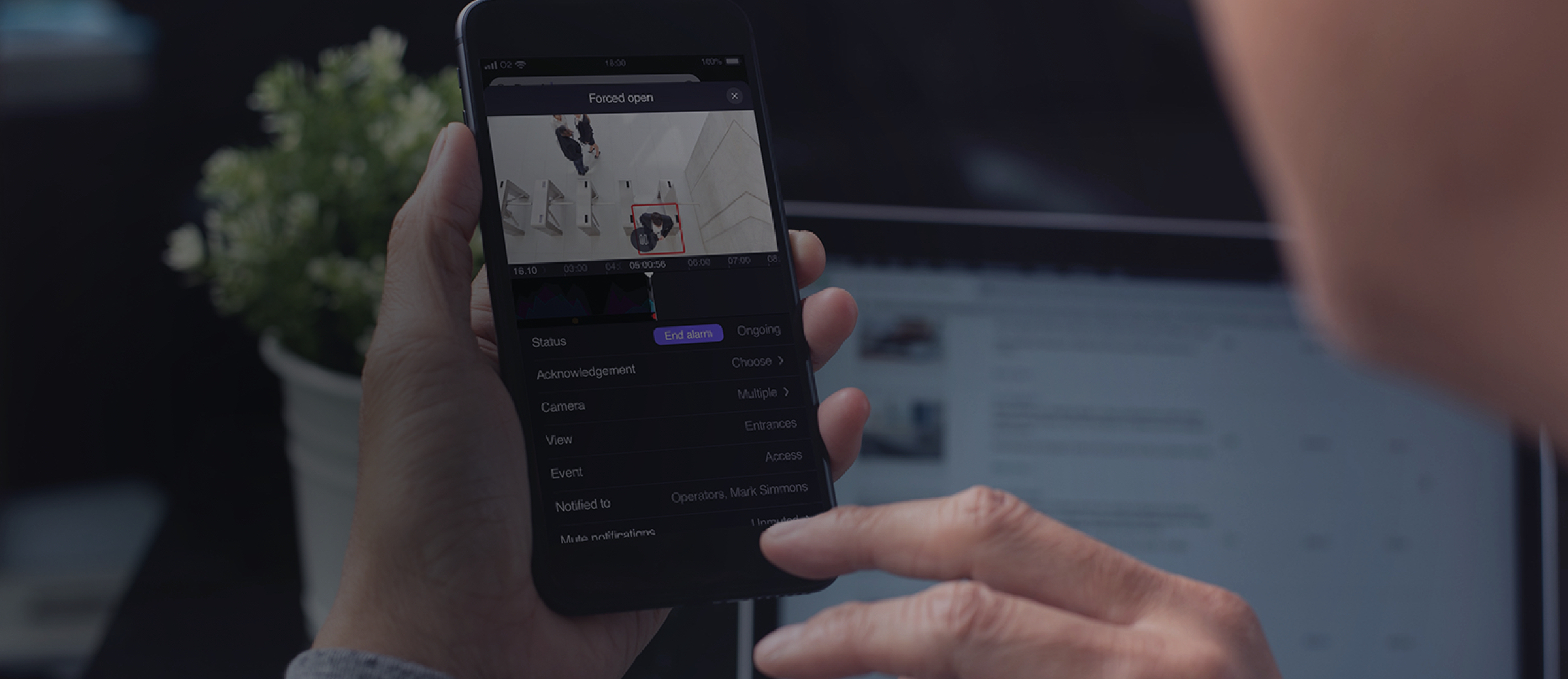 Ava Security and Nedap partner to offer a smart and scalable physical security solution
Press release
Intelligent video surveillance integrated with flexible access control for simpler and more powerful security.
London, September 16, 2021—Ava Security, the pioneer of unified video and cyber security has teamed up with Nedap, the Dutch provider of powerful solutions in physical security, to integrate their best-in-class solutions for security professionals and integrators. Together, the Ava Aware Cloud™ intelligent video management system (VMS) and the Nedap AEOS physical access control provide the simplicity, security, and power needed for proactive physical security.
By enabling the 24/7 video monitoring of access control events as they happen, Ava Security's powerful AI analytics gives security professionals what they need to act: usable, precise data, delivered instantly, whether from a video security stream or Nedap's card readers, door controllers, or intrusion components.
In cases of forced entry, authorization failure, revoked credentials, or doors propped open for a longer period, notifications pop up on the Aware Cloud user interface, including a thumbnail view from the camera that triggered the rule. The pop-up can be expanded to show more detail and allow further actions to be taken by your operators. For instance, additional details can include the name of the badge holder, the image on the credential, and the exact location, provided in real-time, leading to insights and options that are just not possible if access control remains separate from video security.
After an incident, fast forensic searches allow video security teams to find things quickly and reduce the burden of manually reviewing massive amounts of footage.
We are delighted to announce a new partnership that will enable organizations to react to security events as they unfold, connect the dots between 'who,' 'where,' and 'how,' and gain additional insights to streamline and take full control of their operations.
Integrations between security providers are crucial because of an increasing demand for real-time insights, cyber security protection, situational awareness, and the ability to perform accurate and fast investigations. Financial and commercial businesses, government, defense, healthcare organizations, schools and campuses, critical infrastructure facilities, and public venues can all benefit from the ability to monitor and detect access violations using the two seamlessly interconnected platforms.
I'm very proud of having Ava Security joining our Technology Partner Programme. They truly bring an amazing user experience and a rich set of powerful features. By combining Ava Aware Cloud with the AEOS access control, you get strong insights on events and alarms like who accessed, where, and when including the recorded videos. Aware Cloud offers features like Smart Presence, so you can live monitor where your people are. Or view Heatmaps of certain floors, areas, or doors. Features you should definitely check out!
Both companies place the utmost priority on data security, given the risks of operating in a connected world. Protecting video and data both at rest and in transit, Ava's cloud video security solution is cyber-hardened with always-on end-to-end encryption and factory-installed certificates. It also provides audit trails of operator and administrator action, automatically recorded to address the full spectrum of compliance requirements. Ava is ISO 27001 certified, demonstrating its commitment to protecting its internal security processes and customers' data.
Nedap's AEOS access control platform is designed to be secure and safe by default. Every installation is encrypted, so AEOS more than meets the access control requirements of many organizations. Nedap also supports several industry standards to ensure AEOS works with a wide range of third-party readers, including Wiegand, Nedap rs485, OSDP (secure), and transparent.
For more information on how this technology integration changes the outcome of security events, see www.avasecurity.com or www.nedapsecurity.com.
About Ava
Ava Security is a global technology company with offices in the UK, Norway, and the USA. It was founded in 2016 to create a better, smarter way to deliver security. Ava protects people, property, and data anywhere. Innovative companies worldwide use Ava Reveal™ for human-centric data loss protection and Ava Aware Cloud™ for video security and analytics. To learn more about Ava's smart solutions and how you can enjoy proactive security, visit our website or schedule a demo with a member of our sales team at sales@avasecurity.com.
Press contact:
Anne Simpson, Marketing Manager EMEA, Ava Security
Email: anne.simpson@avasecurity.com
Monica Nascimento, Marketing Director Americas, Ava Security
Email: monica.nascimento@avasecurity.com


About Nedap N.V.
High-tech company Nedap N.V. creates high-quality, innovative hardware and software products that enable people to be more productive and successful in their professional lives. Nedap N.V. has a workforce of over 700 employees and operates on a global scale. The company was founded in 1929 and has been listed on Euronext Amsterdam since 1947. Its headquarters is located in Groenlo, the Netherlands.

www.nedapsecurity.com
Press contact:
Mardy Lammers, Marketing & Communication, Nedap Security Management
Phone: +31 (0)544 47 11 11