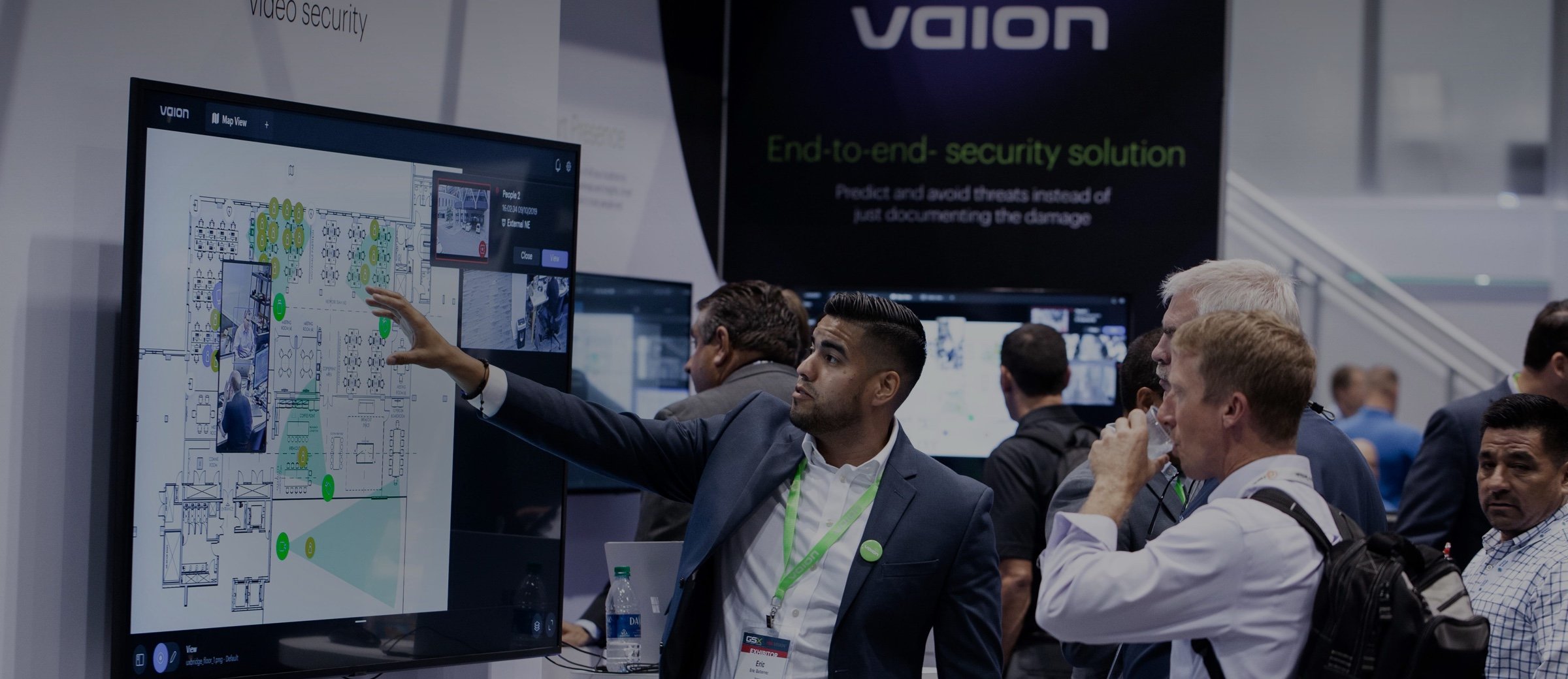 Vaion is Gaining Momentum — See Why at GSX 2019
Press release
Ava Video Security published this press release under its former name, Vaion.
Vaion, just a few months out of stealth mode, today announces its launch into the North American market with comprehensive demonstrations at GSX 2019. Vaion will exhibit in booth #1819 with a rapidly expanding commercial team ready to provide custom demos. Visitors will examine real-world scenarios that showcase how machine learning delivers operator efficiency, provides a rich understanding of surroundings, and offers new operational benefits for improved ROI.
Vaion seeks to answer a single question: what if companies could detect threats at their earliest stages, mitigating risk instead of merely responding to security threats when they occur? It's the basis behind Vaion's innovative end-to-end security system, which brings together video, hardware, and software with embedded machine learning for proactive, rather than reactive, security operations.
Highlighting early customer and partner demands for new experiences, Vaion quickly deployed Proof of Concepts (PoCs) across a range of verticals with immediate results.
Commercial building operators are taking advantage of intelligent maps with Vaion's Smart Presence™. The operational insights are providing the opportunity for enhanced workplace productivity and energy management based on occupancy awareness.
K-12 administrators are finding Vaion's real-time anomaly detection to be vital for complete school security. Vaion's real-time detection gives schools the opportunity to take immediate action in stopping imminent threats from escalating.
Healthcare facility operators are using interactive maps powered by Smart Presence™ to safely monitor patients, visitors, and employees. Vaion's Smart Search™ allows operators to quickly identify a situation and person of interest.
Retailers are benefiting from the granular awareness of the people present in their store. Heat mapping customer behavior provides multi-layered solutions beyond strengthening security, and understanding customer activity helps improve the customer experience and increase sales.
Vaion's active PoC engagements are an essential step in the company's continued growth, with real, on-the-ground opportunities to test these advanced solutions and guarantee that Vaion products deliver on what they promise.
Ambarella, a leading chipset manufacturer specializing in intelligent security applications, can attest to the viability of Vaion's PoC solutions. Vaion uses Ambarella's SoC for its ability to deliver powerful deep neural network processing, image processing, and video encoding.
Machine learning and integrated analytics are set to transform conventional video surveillance systems. Vaion's advanced neural network-based algorithms running on Ambarella's CVflow AI processors enable surveillance solutions that detect threats in their earliest stages and perform fast and effective investigations.
At GSX 2019, Vaion's North American market representatives will provide an up-close look at how integrated AI analytics are set to fundamentally disrupt traditional video surveillance systems.
We are excited to show how artificial intelligence differentiators can safeguard businesses, schools, and entire communities. The positive response received during our PoC engagements proves that our approach to video surveillance uniquely helps our customers react to threats before they escalate, delivers increased situational awareness, and helps reduce resolution time dramatically. Come get the whole picture at booth #1819.
Also, keep an eye out for Vaion's official general availability launch planned later this year. Schedule a demo to get in the queue for a compelling PoC of your own.
All brand names, product names, or trademarks belong to their respective holders. Vaion reserves the right to alter the product, and service offerings, specifications, and pricing at any time without notice. ©2019 Vaion. All rights reserved.