Ava Aware® and sensors
Use best-in-class sensors with the Ava Aware data platform and benefit from enhanced visibility and insights on all the footage and data around your facilities, assets, and people.
The Ava Aware data platform connects with third-party tech sensors to provide remote monitoring, visibility, and alerts when their predetermined thresholds are exceeded. Transform your organization by combining cloud video security with smart sensor technology to enhance your situational awareness, achieve efficiency in facility management, boost your staff's well-being and productivity, and improve the bottom line.
Integrate the Aware data platform and sensors to monitor and detect:
Smart, scalable, and easy to use environmental monitoring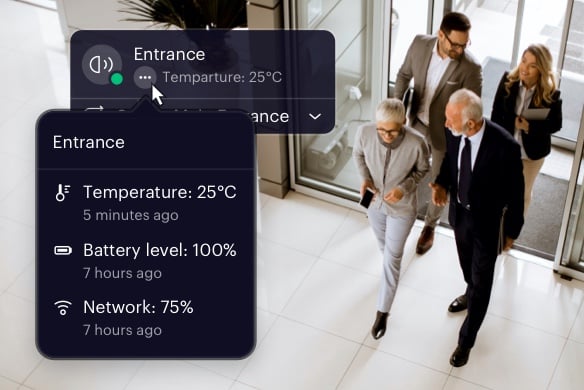 Leverage operational insights
Gather the data and analyze trends to ensure highly performant facility management through smart cleaning, workplace health and safety, energy efficiency, or desk occupancy.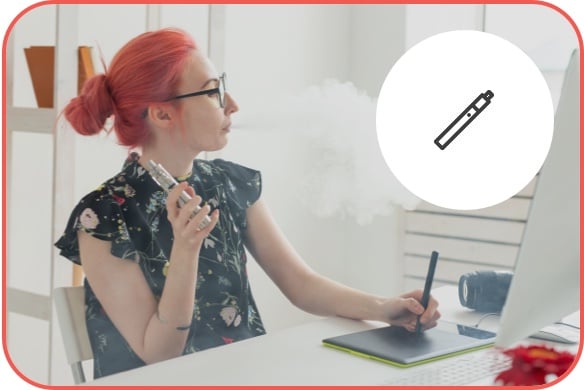 Simplify proactive security
Receive instant alerts on environmental changes, abnormal noise levels and act on vaping, smoking, chemical leaks, movement, and noises to stop incidents from escalating.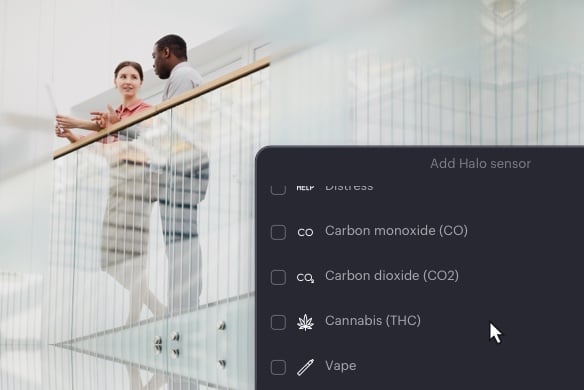 Cloud-connected open integrations
Connect Aware to the sensor provider of your choice with no limitations on the number of devices and always-on remote monitoring from anywhere in the world.
The benefits of combining sensors and the Aware data platform
Optimize facilities with powerful insights

Get value beyond security. Connect tech sensors with the Aware data platform to gather the data from all your locations to ensure highly performant facility management through smart cleaning, workplace health and safety, energy efficiency, or desk occupancy.

Prevent incidents in real time

Be truly proactive and respond to incidents instantly. Set up rules based on the connected environmental sensors to trigger instant notifications. For example, be informed when certain sensor values exceed the accepted limits, or if smoking and vaping are detected, or if there is movement detected in a location or in a specific time frame.

Complete situational awareness

Connect the sensor technology to the Aware platform and place them on the maps to accurately represent your facilities. Once you click a sensor on the map, you can see the sensor's name, its current values for the measured parameters, and the associated camera footage.

Leverage the best sensors on the market

With direct technology integrations from leading providers such as Disruptive Technologies or IPVideo Corporation, be assured that you will have full support and assistance to scale with your business.

Secure access anytime

Access your data in the cloud without the fear of losing footage or video analytics in the event that your equipment is stolen or damaged. End-to-end encryption, SSO, 2FA, and automatic updates ensure your investment is secure.
Frequently asked questions, answered
Which sensor providers does Ava Security support and what type of tech sensors can be linked to Aware?
We have direct sensor integrations with the Halo sensor from IPVideo Technology and the wireless sensors from Disruptive Technologies. Additionally, with our open API, you can integrate with other various sensors located within your buildings and sites.
With integrated sensor readings in Aware, you can detect and receive alerts based on temperature, proximity, touch, humidity, smoke, vape, chemicals and gas, vandalism and trespassing, etc.
How can I buy the integration?
Our sensor integration licenses are offered on an annual basis. One standard license covers a single-channel sensor, i.e. a single measurement made by a device, from Disruptive Technologies as well as any API-based sensors. A separate license is available for Halo integrations, enabling you to view and manage any of the features available in your Halo sensor on a single license.
What industries do you support?
Leveraging sensors and other alarm systems through the Aware platform enable us to support powerful use cases in critical infrastructure, education, manufacturing, FMCG, storage and logistics, property management, and more.
Where can I buy a Halo sensor to integrate with my Aware setup?
You can purchase the Halo sensor technology from IPVideo Corporation and its network of partners and distributors. The Halo sensor monitors temperature, aggression sounds, help sounds, carbon dioxide, cannabis (THC), vape, volatile organic compounds (TVOC), air masking, device tampering, gunshot, air quality (AQI), nitrogen dioxide, particulate matter (pm2.5), and humidity.
Where can I buy a Disruptive Technologies sensor to integrate with my Aware setup?
You can purchase Disruptive Technology's wireless sensors directly from its website or its network of partners and distributors. These sensors detect temperature, touch, proximity, water, and humidity.
Take advantage of the most open cloud video security platform